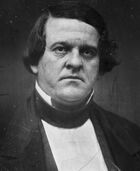 The 1858 Grand Council elections took place in February 1858, for the purpose of choosing the Fourth Grand Council of the Confederation of North America.
The incumbent Governor-General, Whitney Hawkins of Indiana, was elevated by the Conservative Party caucus in August 1856 after the resignation of his predecessor, William Johnson. Hawkins, a financier who served as Minister of the Exchequer in Johnson's Cabinet, was Johnson's personal choice as successor. When the Conservative caucus met in January 1858 to choose a nominee for Governor-General, Hawkins was able to secure the nomination by promising to "carry on the programs and policies of William Johnson." However, Hawkins had never held elective office before his elevation to the Governor-Generalship, and he proved to be a poor campaigner.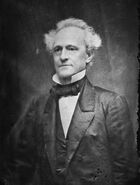 The Liberal Party caucus nominated Councilman Kenneth Parkes of the Northern Confederation, a veteran of the Rocky Mountain War who was first elected to the Grand Council in 1853, while serving as military governor of the occupied areas of Mexico del Norte. Parkes was a skilled politician and a fine orator with connections to the large corporations of the N.C., and his campaign was well-organized. However, the Councilmanic races were close, and Parkes was able to secure a Liberal majority through wholesale vote-buying in the N.C., the bribing of two Councilmen in Vandalia, and the blackmailing of five in Indiana. On election day, the Liberals won 78 Grand Council seats to the Conservatives' 72, and Parkes was selected as Governor-General.
The 1858 Grand Council elections

| | | |
| --- | --- | --- |
| Confederation | Conservative Party | Liberal Party |
| Indiana | 14 | 10 |
| Manitoba | 16 | 5 |
| Northern Confederation | 9 | 35 |
| Quebec | 14 | 8 |
| Southern Confederation | 17 | 13 |
| Vandalia | 2 | 7 |
---
Sobel's source for the 1858 Grand Council elections is Sidney Bostwick's Every Man Has His Price: The Elections of 1858 (Burgoyne, 1958). Election results are from the New York Herald, 16 February 1858.