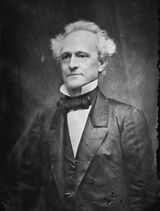 The
1863 Grand Council elections
took place in February 1863, for the purpose of choosing the
Fifth Grand Council
of the
Confederation of North America
.
Incumbent Governor-General Kenneth Parkes of the Liberal Party was nominated by his party's caucus for a second term. Sobel has little to say about the 1863 elections other than to note that Parkes' personal popularity, combined with Liberal vote-buying in Vandalia and Indiana, allowed the Liberals to increase their majority in the Grand Council from 78 to 89 while the Conservative Party's numbers fell from 72 to 61. Sobel does not break down the election by confederation, or even mention who the Conservative candidate for Governor-General was.
Ad blocker interference detected!
Wikia is a free-to-use site that makes money from advertising. We have a modified experience for viewers using ad blockers

Wikia is not accessible if you've made further modifications. Remove the custom ad blocker rule(s) and the page will load as expected.