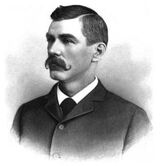 The
1873 Grand Council elections
took place in February 1873, for the purpose of choosing the
Seventh Grand Council
of the
Confederation of North America
.
The elections were the first to take place after passage of the Reform Bills of 1869 and 1870, which respectively enlarged the franchise and redistricted the seats for the Grand Council. Both Reform Bills were passed by the Conservative Party under Governor-General Herbert Clemens, and both were meant to cement the Conservatives' hold on power. The 1869 bill extended the franchise to small businessmen, merchants, and urban workers who tended to vote Conservative, while the 1870 bill allowed Conservatives to redraw Grand Council districts to increase the number with Conservative majorities.
However, both Reform Bills had the unintended result of magnifying the electoral power of the People's Coalition, a new party formed in 1869. In 1873, the Conservatives actually lost 8 of their 85 seats in the Grand Council, and the Liberals 2 of their 65, to the Coalition. The Conservatives also lost control of the legislatures of New Hampshire, Virginia, and North Carolina to the Coalition.
Sobel has little to say about the 1873 elections, other than to note the Conservate victory in the Grand Council, and the Coalition's surprisingly strong showing. No mention is made of the Liberals' nominee for Governor-General, or whether the People's Coalition even had a nominee.