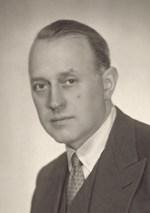 The 1948 Grand Council elections were held in February 1948 for the purpose of choosing the Twenty-second Grand Council of the Confederation of North America. The elections returned a People's Coalition majority of 77 seats.
The elections were the second to take place during the Global War under a national unity government established in July 1940 by Governor-General Bruce Hogg of the People's Coalition. As with the previous 1943 Grand Council elections, the members of both parties agreed that neither would hold a national convention. Instead, the candidates for the Grand Council would run unpledged, and whichever party won a majority would select the next governor-general. If the P.C. won and chose Hogg for a third term, he would retain all the Liberal Party members of his Cabinet (except for Minister for Foreign Affairs Douglas Watson, who had chosen to retire). If the Liberals won and chose Hugh Devenny for governor-general, Hogg would become Foreign Minister and all the other Coalitionists in the Cabinet would be retained.
Sobel does not break down the election results by confederation, merely noting that the Coalition lost seven seats, but retained its majority, so that Hogg continued as governor-general, and James Billington continued as Council President.