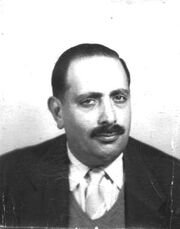 The 1965 Mexican elections took place in November 1965, for the purpose of choosing the President and Congress of the United States of Mexico.
The 1965 elections were the first to be held in the U.S.M. since the 1950 Mexican elections and the Mercator coup. Self-appointed President Vincent Mercator announced the upcoming elections in 1965, and created a new political party, the Progressive Party, for candidates to run under, since the United Mexican Party and the Liberty Party had both been outlawed following the Mercator coup. A full slate of candidates for President and Congress were announced, all members of the Progressive Party. Although some Congressional seats were contested between two candidates, only a single candidate for President was nominated: Raphael Dominguez, a Mexico City attorney and faculty member at the University of Mexico City.
Although there were 37 million eligible voters in the U.S.M. in 1965, only 31 million cast votes for President. Dominguez received 14.7 million votes; his name was crossed out on the other 16.3 million ballots, and either left otherwise blank or with another name written in. Hundreds of candidates received write-in votes in this way, with the top vote-getter being the late Admiral Paul Suarez, the winner of the 1950 Presidential contest, who received 9 million. Mercator was said to be infuriated by this result, and Mexico's election law was changed to prevent a repetition in the future. Dominguez was sworn in by Mercator on 22 November 1965, and Mercator resumed his place as Secretary of War, although he continued to be the de facto ruler of the U.S.M.
---
Sobel's source for the 1965 Mexican elections is Kenneth Zarb's Inside the U.S.M.: Mercator's Folly (New York, 1971).