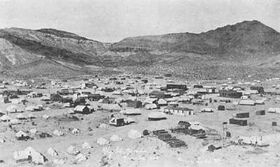 Bald Eagle is a city in the Mexican state of Arizona, located in the eastern foothills of the Sierra Nevada Mountains, east of Williams Pass. Bald Eagle is best known for suffering a two-day sack during the Rocky Mountain War in November 1850 by the Southern Confederation militia under General FitzJohn Smithers that left it completely destroyed.
Ad blocker interference detected!
Wikia is a free-to-use site that makes money from advertising. We have a modified experience for viewers using ad blockers

Wikia is not accessible if you've made further modifications. Remove the custom ad blocker rule(s) and the page will load as expected.