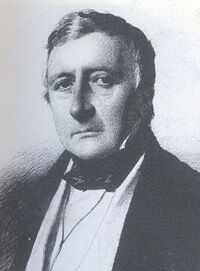 Bruce Harrison
was a member of the
Grand Council
from the
Northern Confederation
and
Minister of State
in the
Cabinet
of
Governor-General
Winfield Scott
. Harrison resigned as Minister of State in 1845 (
Sobel
erroneously
gives the year as 1839) to protest Scott's decision to go to war with the
United States of Mexico
.
In the 1853 Grand Council elections Harrison was nominated by the Unified Liberal Party for Governor-General. The election was dominated by growing popular opposition to the Rocky Mountain War, and Harrison called for the gradual withdrawal of C.N.A. forces from the Rocky Mountain area, and a "peace with dignity" to be negotiated with the U.S.M. In the elections in February 1853 the Unified Liberals lost their majority in the Grand Council, and National Conservative candidate William Johnson was chosen as Governor-General.
Ad blocker interference detected!
Wikia is a free-to-use site that makes money from advertising. We have a modified experience for viewers using ad blockers

Wikia is not accessible if you've made further modifications. Remove the custom ad blocker rule(s) and the page will load as expected.