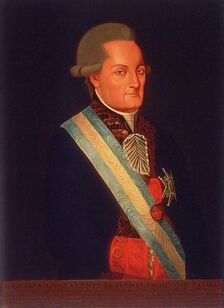 Juan Vicente de Güemes Padilla Horcasitas y Aguayo, 2nd Count of Revillagigedo (1740 - 1806), was a Spanish military officer and Viceroy of New Spain from 1789 to 1794. Following Spain's defeat in the Trans-Oceanic War in 1799 he launched the Mexican War of Independence and was the provisional president of the Republic of Mexico from 1805 to 1806.
Revillagigedo instituted a series of reforms in New Spain during his period as viceroy. He reduced government corruption, cleaned and lit the streets of New Spain's principal cities, built roads, instituted fire brigades, and founded schools. He was also concerned about the growing settlement of exiled British colonists at Jefferson in the Province of Tejas.
Revillagigedo made many enemies while instituting his reforms, and in 1794 they succeeded in having him dismissed as viceroy. He was ordered to return to Spain and face a variety of charges that had been made against him, which he did successfully. He was sent back to New Spain in a subordinate position to the corrupt new viceroy, Miguel de la Grúa Talamanca, during the Trans-Oceanic War. When news reached New Spain in 1799 that Spain had been defeated in the war, and that King Charles IV had been deposed and replaced by Prince Ferdinand of Prussia, Revillagigedo led an uprising against the new Spanish government. Many clerics, appalled that the new king was a Protestant, joined Revillagigedo's uprising, most notably Miguel Hidalgo y Costilla and José María Morelos. Over the next six years, Revillagigedo's forces were able to drive Grúa out of New Spain, and on March 17, 1805, Revillagigedo became head of the provisional government of the Republic of Mexico.
Revillagigedo's government drafted a constitution that guaranteed civil rights, ended slavery, and disestablished the Catholic Church. Morelos came to support disestablishment, but most of Revillagigedo's clerical supporters opposed it, most notably Hidalgo y Costilla. Revillagigedo managed to maintain peace between the two factions, but following his death in 1806, civil war broke out.
---
Sobel's sources on Revillagigedo's career in New Spain are Martin Wilmington's Charles IV and Spain's Lost Opportunities in Mexico (New York, 1959) and Ricardo Valdez's Mexico: The Spanish Era (Mexico City, 1960). Sobel erroneously refers to him as Revillo Gigedo.
Ad blocker interference detected!
Wikia is a free-to-use site that makes money from advertising. We have a modified experience for viewers using ad blockers

Wikia is not accessible if you've made further modifications. Remove the custom ad blocker rule(s) and the page will load as expected.