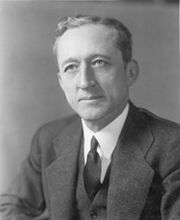 Courtney Judd
was
Minister for Foreign Affairs
in the
Cabinet
of
Governor-General
Douglas Watson
in the 1930s. It is possible that Judd was also a member of
Henderson Dewey
's Cabinet in the 1920s, although
Sobel
makes no mention of it.
Judd supported Watson's rearmament program and his proposed alliance with the United British Empire. After Watson returned from his month-long European tour, he called a special Cabinet meeting on May 8, 1933. During this meeting, Judd gave an address to the rest of the Cabinet in which he indicated various flash points around the world, including China and the Ottoman Empire, which might give rise to a general war within the year.
Judd stepped down as Minister for Foreign Affairs after the People's Coalition won the 1938 Grand Council elections.
---
Sobel's source for Judd's address to the Cabinet is Jeffrey Martin's The Secret History of the Watson Administration (New York, 1944).
Ad blocker interference detected!
Wikia is a free-to-use site that makes money from advertising. We have a modified experience for viewers using ad blockers

Wikia is not accessible if you've made further modifications. Remove the custom ad blocker rule(s) and the page will load as expected.