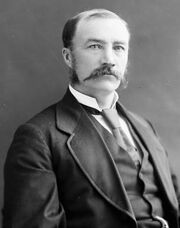 Fritz Stark
(1844 - 1899) was a
Liberal
member of the
Grand Council
from the province of
Georgia
in the
Southern Confederation
. Stark is best known for giving the
Stark speech
, which set off the
Starkist terror
in the
Confederation of North America
in July 1899.
Stark was a prominent figure in Georgia politics before winning election to the Grand Council in 1888, one of nine Liberals elected from the Southern Confederation that year. A mild, cautious man, by 1899 Stark was highly respected. Although he opposed Governor-General Ezra Gallivan's isolationism, he had not taken part in the campaign of vilification of Gallivan that swept the country after the Mexican conquest of Alaska in 1898.
In early July 1899, following the Mexican invasion of Siberia, Stark was approached by John Montalban, a clerk in the Mexican embassy in Burgoyne. Montalban claimed to have proof that Gallivan had been receiving NA£ 1.5 million a year from Kramer Associates since 1893, and that K. A. President Diego Cortez y Catalán was dictating the C.N.A.'s foreign policy. Stark had a handwriting expert examine Montalban's documents, and he reported that they were genuine.
Stark announced his discovery in a speech on the floor of the Grand Council on July 10, and the result was a wave of political violence that swept across the C.N.A., leaving hundreds dead. Stark and a delegation from the Council's Rules Committee met with Gallivan on July 19, during which the Governor-General claimed that Stark's documents were forgeries. A special committee of the Grand Council was created to investigate Stark's charges, and after two weeks announced that Montalban's documents were indeed forgeries.
Stark was horrified by the realization that he had been deceived, and that he was responsible for plunging the C.N.A. into turmoil. He recanted his accusation and announced his resignation from the Grand Council on August 6, then committed suicide the next day.
---
Sobel's sources for the life of Fritz Stark and his role in the Starkist terror are Allan Watterson's The Great Fear: Starkism in the C.N.A. (London, 1956) and Alice Welsch's Who Killed Cock Robin? Starkism in Perspective (New York, 1959).
Ad blocker interference detected!
Wikia is a free-to-use site that makes money from advertising. We have a modified experience for viewers using ad blockers

Wikia is not accessible if you've made further modifications. Remove the custom ad blocker rule(s) and the page will load as expected.