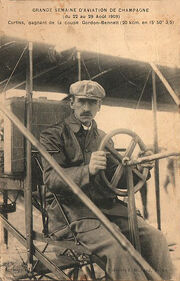 Glenn Curtiss (1878-1912) was a pioneer in the development of the airmobile in the Confederation of North America. After Thomas Edison demonstrated the first heavier-than-air flying machine in 1903, Curtiss formed a company, Curtiss Aviation Ltd., with support from the National Financial Administration, to attempt commercial development of the new invention. Despite a number of innovative designs, he was largely unsuccessful. He died in a crash of one of his airmobiles at his research facility in central New York, in the Northern Confederation, three years before Whitney Forster secured the first government contract for airmobile mail delivery and established the viability of the industry.
Curtiss is remarkable in that he appears to be the latest born person from IOW to be mentioned in Sobel.
Ad blocker interference detected!
Wikia is a free-to-use site that makes money from advertising. We have a modified experience for viewers using ad blockers

Wikia is not accessible if you've made further modifications. Remove the custom ad blocker rule(s) and the page will load as expected.