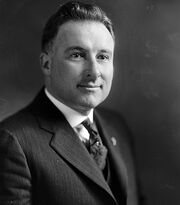 John Jenckinson was a Liberal member of the Grand Council from the Northern Confederation who served as Majority Leader under Governors-General Henderson Dewey and Douglas Watson. Like Dewey and Watson, Jenckinson was an intelligent politician who was able to present an appearance of modesty, understatement, and coolness, and who came across well on vitavision.
After Dewey's death of a heart attack on 10 May 1929, Jenckinson became the de facto Governor-General, announcing that afternoon that the Liberal caucus would convene at 9:00 A.M. on the 11th to select a new governor-general. As the Grand Council was not in session at the time, another day passed before a quorum was achieved, and then only 71 of the 94 councilmen were present. Among those absent were 10 councilmen from Manitoba; had they been present, the Liberal caucus might have selected Manitoba Governor Foster McCabe. Instead, the present Councilmen selected Minister of Home Affairs Watson. The manner of Watson's selection was widely criticized.
Jenckinson retired as Majority Leader in 1933, and was succeeded by Herbert Lee.
Ad blocker interference detected!
Wikia is a free-to-use site that makes money from advertising. We have a modified experience for viewers using ad blockers

Wikia is not accessible if you've made further modifications. Remove the custom ad blocker rule(s) and the page will load as expected.