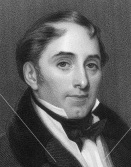 John Temple
was
Prime Minister
of
Great Britain
in the 1850s. In 1853,
Governor-General
William Johnson
sent his
Minister of State
Montgomery Harcourt
to
London
to meet Temple to encourage British investment in the
Confederation of North America
. Temple was interested in the idea, and used his contacts among British bankers to persuade them to make a survey of investment opportunities in North America. As a result, British investment in the C.N.A. increased in every year from 1855 to 1880, except for a period of recession in the early 1860s.
Sobel's source for Temple's role in increased British investment in the C.N.A. is Simon Rabbino's The Invasion of the Pound: British Investments in the C.N.A. from 1840 to 1880 (London, 1965).
Ad blocker interference detected!
Wikia is a free-to-use site that makes money from advertising. We have a modified experience for viewers using ad blockers

Wikia is not accessible if you've made further modifications. Remove the custom ad blocker rule(s) and the page will load as expected.