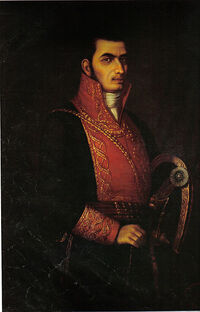 José María Teclo Morelos y Pavón was the second President of the Republic of Mexico from 1806 to 1817.
Morelos was born into a poor Mexicano family in Valladolid on September 1, 1765. After entering the priesthood, he became the parish priest of Cuarácuaro, a position he still held when he joined the revolutionary army of the Count of Revillagigedo in 1804 during the Mexican War of Independence. Morelos came to support Revillagigedo's policy of disestablishing the Catholic Church and establishing a secular state. This put him into conflict with the Clericalists led by Miguel Hidalgo y Costilla. When Morelos succeeded to the presidency of the Republic after Revillagigedo's death in 1806, the Clericalists rose in revolt.
The Clericalists lacked the strength to overcome Morelos' government in Mexico City, known as the Federalists, and were limited to staging hit-and-run attacks against Federalist targets. Hidalgo y Costilla died in 1809, and was succeeded as head of the Clericalists by the less-competent Simón Figueroa. However, by 1815 Morelos became determined to put an end to the Clericalist uprising. Federalist troops began carrying out large-scale executions of alleged Clericalist sympathizers throughout Mexico. This policy prompted Alexander Hamilton of the State of Jefferson to send an army into Mexico in the summer of 1816 to support the Clericalists. The Jeffersonian army under General Andrew Jackson defeated the Federalist army under General Carlos Mejía at the Battle of Seven Forks in November. Morelos died in December 1816, two months before a combined Jeffersonian/Clericalist army under Jackson and Figueroa occupied Mexico City.
---
Sobel erroneously refers to José María Morelos as José Morales, perhaps influenced by the later Moralista guerilla movement of the 1870s and 1880s. Sobel's sources for Morelos' life are Morelos' own memoirs, My Cause Is Mexico (4th ed., New York, 1902); and Carlos Ortez' The Mexican Civil War (Mexico City, 1960).
Ad blocker interference detected!
Wikia is a free-to-use site that makes money from advertising. We have a modified experience for viewers using ad blockers

Wikia is not accessible if you've made further modifications. Remove the custom ad blocker rule(s) and the page will load as expected.