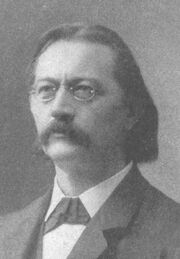 Leonidas Rubey
was
Minister for Home Affairs
in the
Cabinet
of
Governor-General
Ezra Gallivan
when Gallivan resigned on July 24, 1901. Rubey was considered a possible successor to Gallivan; he was a moderate who had remained in the background during the
Starkist terror
, and was considered a unity candidate. However,
Sobel
suggests that he was passed over for not being "the stuff chief executives are made of." Rubey himself suggested Councilman
Harry Burroughs
of
Manitoba
, but the
People's Coalition
caucus eventually chose Councilman
Clifton Burgen
of
Northern Vandalia
to succeed Gallivan.
Ad blocker interference detected!
Wikia is a free-to-use site that makes money from advertising. We have a modified experience for viewers using ad blockers

Wikia is not accessible if you've made further modifications. Remove the custom ad blocker rule(s) and the page will load as expected.