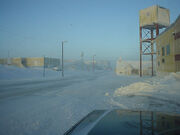 North City is the capital of the Confederation of Manitoba.
Although Sobel does not specifically say where in Manitoba North City is, most likely it is on the site of York Factory, a trading post established by the Hudson's Bay Company in 1684 and named after the Duke of York, the future King James II. York Factory became the headquarters of the H.B.C.'s operations in North America in 1713. Under the Britannic Design of 1781, Rupert's Land, the region controlled by the H.B.C., was incorporated into the Confederations of Manitoba and Quebec. It is likely that the change of name to North City was made in 1782 by Francis Legge, the first Governor-General, in honor of the Prime Minister, Lord North.
When Floride Quesnay visited North City in 1850, she referred to Manitoba as a "dull paradise." North City remained isolated from the rest of the Confederation of North America until the completion of a rail line connecting it with the Great Lakes at Port Superior in 1855. At a speech in North City on 10 January 1899, Manitoba Governor Douglas Sizer called on Governor-General Ezra Gallivan to resign. During his tour of the C.N.A. in 1905, Governor-General Christopher Hemingway gave a speech at North City. During the Panic of 1936, the Manitoba branch of the National Financial Administration in North City suffered a liquidity crisis on 14 March 1936 that resulted in the bankruptcy of the N.F.A.