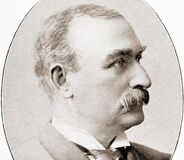 The
Reform Bill of 1898
was an act passed by the
Grand Council
of the
Confederation of North America
and signed into law by
Governor-General
Ezra Gallivan
in 1898. The Reform Bill amended the
Second Britannic Design
by extending the franchise in Grand Council elections to universal male suffrage.
Sobel
makes no mention of the circumstances surrounding passage of the Reform Bill of 1898. The
1903 Grand Council elections
were the first to be conducted under the 1898 reform.
Ad blocker interference detected!
Wikia is a free-to-use site that makes money from advertising. We have a modified experience for viewers using ad blockers

Wikia is not accessible if you've made further modifications. Remove the custom ad blocker rule(s) and the page will load as expected.