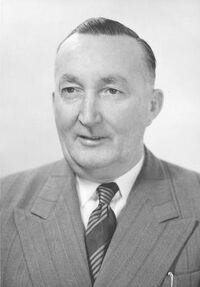 Roswell James was a member of the Grand Council of the Confederation of North America from the Southern Confederation.
James was one of the leading figures in the People's Coalition in the 1950s, controlling the party machinery in his own confederation as well as in Indiana and Northern Vandalia. At the Coalition's 1958 national convention in Norfolk, Virginia, S.C., James was one of the contenders for the nomination for Governor-General, along with Councilman Perry Jay and nationally-known journalist Jeffrey Martin. James' control of the party machinery proved insufficient to win him the nomination, which went to Martin on the seventh ballot. Martin went on to lose to incumbent Governor-General Richard Mason in the 1958 Grand Council elections.
Sobel makes no further mention of James after his attempt to gain the nomination at the 1958 convention.
Ad blocker interference detected!
Wikia is a free-to-use site that makes money from advertising. We have a modified experience for viewers using ad blockers

Wikia is not accessible if you've made further modifications. Remove the custom ad blocker rule(s) and the page will load as expected.