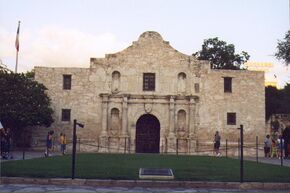 San Antonio
is the oldest major city in the
Mexican
state of
Jefferson
. The city dates back to the establishment of a
Spanish
mission and presidio on the San Antonio River in May 1718. San Antonio grew to be the largest Spanish settlement in the province of
Tejas
, and became the provincial capital. During the
Wilderness Walk
, the American settlers led by
Nathanael Greene
halted in San Antonio in September 1782 before continuing on for another 200 miles to found
Jefferson City
.
Sobel makes no mention of friction between the Spanish government in San Antonio and the growing Anglo settlements of Jefferson, although there may have been some. San Antonio was presumably captured by a Jeffersonian army under General Alexander Hamilton during the first year of the Trans-Oceanic War, though, again, Sobel makes no mention of it.
Ad blocker interference detected!
Wikia is a free-to-use site that makes money from advertising. We have a modified experience for viewers using ad blockers

Wikia is not accessible if you've made further modifications. Remove the custom ad blocker rule(s) and the page will load as expected.