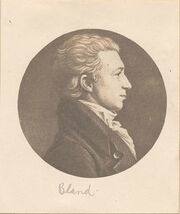 Theodorick Bland (1741 - 1800?) was an officer in the Continental Army during the North American Rebellion, and afterwards was appointed Governor of Virginia.
Bland was born into a prominent Virginia planter family on 21 March 1741. He was educated as a medical doctor in Great Britain, then returned to Virginia in 1763 to set up a medical practice. After inheriting the Kippax Plantation in 1768, Bland retired from medicine and entered politics. When the Rebellion broke out in 1775, Bland became a captain in the Virginia cavalry, then quickly rose to the rank of colonel in command of the 1st Continental Light Dragoons. Following the Battle of Germantown in October 1777, Bland resigned his commission and returned to Virginia.
After the creation of the Southern Confederation by the Britannic Design in 1782, Bland was appointed Governor of Virginia. As governor, Bland served on the Southern Confederation Council, where he exercised considerably more influence than Governor-General John Connolly. Following the outbreak of the Trans-Oceanic War in 1795, Bland was chiefly responsible for organizing the invasion of Spanish Louisiana by a combined force of S.C. militia and British regulars.
Bland was noted for his distrust of the people of the Northern Confederation, whom he insisted in 1788 were responsible for starting the Rebellion, and whom he said "remain rebels at heart." This touched off a war of words with N.C. Governor-General George Clinton.
---
Sobel's sources for the career of Theodorick Bland are Sir Humphrey Grey's Particularism and Colonial Rights in the Southern Confederation (London, 1940) and Percy Harcourt's The Vipers in Their Bosoms: Clinton and Bland in 1788 (London, 1956).
In For All Nails, Bland appears as a character in 1784 and is killed in the failed French and rebel attack on Norfolk in 1796.
Ad blocker interference detected!
Wikia is a free-to-use site that makes money from advertising. We have a modified experience for viewers using ad blockers

Wikia is not accessible if you've made further modifications. Remove the custom ad blocker rule(s) and the page will load as expected.