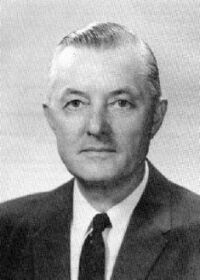 William Williams was Minister of Home Affairs in the Cabinet of Governor-General Bruce Hogg. With the effective end of the Global War, it was Williams who oversaw the conversion of the C.N.A.'s wartime economy in 1949, as war-based industries were converted to civilian production and the wartime farm subsidy program was gradually phased out.
Although Sobel does not say so explicitly, it can be inferred that Williams was a Liberal who took part in Hogg's unity government along with Douglas Watson and Hugh Devenny. Sobel states that Williams' successor as Minister of Home Affairs, Perry Jay, "had become the strong man in the Cabinet after the Liberals had left" in November 1949.
Ad blocker interference detected!
Wikia is a free-to-use site that makes money from advertising. We have a modified experience for viewers using ad blockers

Wikia is not accessible if you've made further modifications. Remove the custom ad blocker rule(s) and the page will load as expected.